John Lumsden, a.k.a Johnny Baseball, Johnny B, JB (Founder and Owner)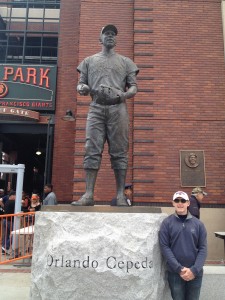 I was born and raised in Los Angeles, CA as a Dodger fan. I have been a baseball fan my whole life, but it wasn't until freshman year of college that I truly fell in love with the game. I have been a student at Mississippi State University on and off since 2013 studying Business Administration (concentrations in Accounting, Information Systems, and Marketing) with hopes of furthering my career in baseball analytics/player development. While I am a big supporter of baseball sabermetrics, I also believe that old-school scouting has a big impact in the game.
During the year of 2015 I made the decision to take a year off from school to accept my first job in baseball. I became a concessions manager for the KC class A advanced affiliate, Wilmington Blue Rocks in Delaware, in which I was offered at the MiLB job fair in San Diego during the 2014 baseball Winter Meetings. I then continued on with Centerplate (concessions company with whom I worked for) to work at RFK Stadium in DC for three months during the Fall. After the job concluded I returned to MSU.
During the Summer of 2016 I worked as an intern and stat analyst for the Peninsula Pilots, a summer collegiate team in the Coastal Plain League, located in Hampton, VA. The job changed my direction in the baseball from game-day relations/business aspects to what I truly love, player development/scouting with an emphasis on advanced metrics.
Since, I have continued to study the game, especially in aspects of identifying talent and growing talent. During the Summer of 2017 I again worked with the Peninsula Pilots, but this time as the lead stat analyst and special assistant, working closely with the coaching staff and players. This helped me land a volunteer assistant job in player development/analytics with the Old Dominion University baseball team for the Fall of 2017.
In addition to working with the Pilots and Old Dominion Monarchs I have had the pleasure to work with the Yakkertech Baseball product, a new cutting edge vision imaging device to help aid pitching development. My experience working with the product at ODU and with the Pilots has not been my only involvement with Yakkertech. I have also been a big part of sales and development of the product.
With all the experience I have gained from different angles of the game I share my passion for baseball on this blog. The great thing that I love about baseball, is that championships dont recquire a team of all-stars, but a team of good talent, with players who respect one another, as chemistry is the secret ingredient. A game that is about strategy and uniting the fans, that spreads throughout the world on a positive note, as America trys to do everyday as the greatest country in the world.
"It is hard not to be romantic about baseball."
Please feel free to email me at JLumsden@johnnylbaseballclubhouse.com or call me at 8184540212. I am always open to suggestions or comments and the opportunites to meet more baseball lovers.