During the 2013 offseason, Ervin Santana was seeking out a contract for multiple years, and a substantial amount of money. He did not get it and instead had to settle with a one-year deal with the Braves worth $14.1 million. Reportedly last off-season the only multi-year deal on the table was from his new team the Twins. Ervin said publically that he wanted a new challenge and it was going to be in the NL. Also the contract offer from the Twins may not have been enough of a payday, but now after a good season with the Braves, he finally gets the deal he has been looking for, as he agreed to a Winter Meetings signing that will pay him $55 million to play 4 years for the Twins. That is around 14 a year. Ervin Santana is a good middle of the rotation pitcher, but he is not worth the $14 million unless he was going to be pitching behind the ace of the staff.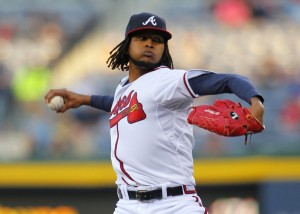 What Ervin brings to the table is a hard work ethic with a good genuine personality. From 2011-2013 he was not impressive at all, as he was 29-35 with a 3.93 ERA (4.52 FIP), 1.211 WHIP and a .454 win-loss percentage. In 2014 though he turned it around with a 14-10 record that produced a lower FIP (3.39) than ERA (3.95) along with a .583 win-loss percentage. Over the course of his 10-year career he has been inconsistent, but has had 4 quality seasons including an all-star selection in 2008. His career before Atlanta was in the offensively driven American League, including playing in the tough AL West. So moving over to the NL onto a team where he fit perfectly, one could argue that he was well worth the $14 million, but looking over his numbers and considering that his career FIP is higher than his ERA, Ervin is not worth more than 10 mil a season. He does pitch approximately 195 innings though, which shows his work ethic. Ervin is a good major league pitcher who in a perfect world would make $8 million a year while being a number 3 or 4 pitcher in the rotation winning 13 games a year.
Ervin is a nice free agent pitcher upgrade for the Twins, but they overpaid him, which is the biggest free agent contract Minnesota has ever given out. This is just what Minnesota seems to do over the last few years, and that is over valuing players then shelling out more than they should. Just to give a few examples; in September 2013 the Twins traded away Justin Morneau for Alex Presley (not even a rated prospect at the time), they signed Nolasco to a 4 year $49 million contract last Winter after he had a descent second half stint with the Dodgers, and they signed Phil Hughes to a big contract early last Winter when there were a whole lot of better available pitchers on the market. Certainly Ervin will improve this rotation, but he is not a game changer. Having Phil Hughs and Santana at the top of the rotation will not be so bad, but they are getting paid like they are both all star caliber players for years to come, which is not totally accurate.
Overall this signing is a C+ considering the small basket of free agent pitchers now left, but this one is not worth $54 million, maybe 40 at the best.