The Winter Meetings in San Diego might have been one of the busiest meetings over the last 10 years, as many teams made some noise by signing big names or making blockbuster trades. Some of the main teams to highlight at the meetings were the Dodgers, Red Sox, and Cubs, but one team to go speeding under the radar was the Chicago White Sox. After signing left-handed reliever Zach Duke weeks before the Winter Meetings, they then keep it going by adding Samardzija and David Robertson, while in San Diego.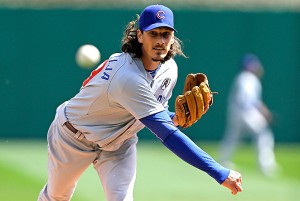 On December 9th the White Sox sent infielder Marcus Semien, catcher Josh Phegley, pitcher Chris Bassitt, and first baseman Rangel Ravelo all to Oakland in exchange for Jeff Samardzija along with Michael Ynoa. Samardzija will be the #2 behind the lethal left-hander Chris Sale, to create a great 1-2 punch. Jeff was with the Cubs for 6 ½ seasons before being dealt to the A's at the trade deadline in 2014, so being in a White Sox uniform playing in Chicago should be somewhat a familiar feeling. Standing at 6 foot 5 inches weighing in at 225 pounds, Samardzija produces a career average of 8.5 K/9, which combined with Sale's career 9.8 K/9, should produce one of the best power-pitching combos in the league. Samardzija's big body also provides him with a lot of stamina, as in 2014 he averaged 7 innings pitched/game while throwing over 100 pitches, which will be significant as the White Sox can then have their new reliever and closer come in and pitch 6 outs of shutout ball.
Zack Duke is not listed as the White Sox set-up man at the moment, but he could very well earn that role, as he had 12 holds in 2014 along with 4 save opportunities, which helped set-up for the Brewers closer, Francisco Rodriguez. The left-hander Duke transitioned very well into the bullpen last season for the Brew-Crew, after not being successful as a starter for 6 seasons. In 2014 his 5-1 record, 2.45 ERA, and 11.4 K/9 helped limit batters to hitting .223 against him, and it also proved to clubs that he can be a dynamic reliever, as the White Sox jumped on him first, signing Zach to a 3-year $15 million contract. Chicago expects him to be a key piece in setting up for their new closer, David Robertson.
The White Sox were a surprise when they signed Mariano Rivera's former acquaintance in David Robertson. After the Yankees decided to sign Andrew Miller, the White Sox saw their chance to sign a widely respected free-agent in Robertson. So they did, as they inked him during the Winter Meetings to a 4-year $46 million contract making David one of the highest paid closers in the game. Coming off of a 39 save season on a non contending team, Robertson has very much the capability of closing the door at least 40-50 times a season. What stood out in 2014 for Robertson, was his posting of a 2.68 FIP (basically a pitcher's true ERA if the team's defense is not factored in) and opponents batting only .196 against him. Now that the White Sox have a great closer, the offense doesn't have to worry nearly as much anymore about adding insurance runs late in games.
These moves for Chicago puts them a hell of a lot closer to contending in the AL Central. With a great duo at the top of the rotation, a solid set-up man and closer in the bullpen, the White Sox can certainly expect their team ERA to be lower in 2015. This new look team definitely has the potential to improve at least improve 7 games from their 73-win season.