There have been so many great center fielders throughout baseball history, but only 18 of them have made it to Cooperstown. There are a select group of center fielders looking into the Hall from the outside though, and Vada Pinson is one of them. During his 18-year career he played for the Reds/Redlegs, Cardinals, Indians, California Angels, and the Royals.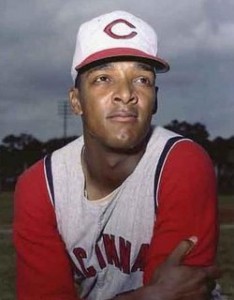 For his first 10 years of his career, Vada was one of the best outfielders in the game. From 1958-1967, he hit for a batting average of .299, while playing in just about 144 games/season in which he recorded on average 175 hits, that condensed out to 31 doubles, 9 triples, 18 homers, and 117 singles. But starting in 1968, his career started going down hill, as for the rest of his career he only played in an average of 129 games/season in which his stats totaled out to be a lot lower than his numbers during his first 10 years in the league.
Hitting was not the only aspect of Vada's game that was good during his great career, as he also had a good pair of legs. Pinson stole a total of 305 bases (71% success rate), which not only helped him gather over 4000 total bases, but Vada's speed also gave him a career range factor in right field of 2.19/game (league average: 2.12 during that time). Surprisingly though Pinson's career fielding percentage of .981 was not enough to help him win, but only one Gold Glove.
The one Gold Glove Award was not the only single appreciation for his ability as, he only had one appearance in the playoffs (1961 WS; 5 games), which isn't a lot to go on for measuring his performance under pressure. But, Vada's first 10 regular season performances give him a strong argument to be in Cooperstown; unfortunately though his Hall of Fame eligibility has already ran out. The concern that came up during his eligibility for the Hall was that Vada was never great; he was always just a good consistent player. That may be true for some eras, but his stats are outstanding, considering he played in the 60's and 70's, which were mostly dominated by the pitcher until the mound was lowered in 1969. Another possible reason for his absence in Cooperstown is that Vada flew under the radar as a quiet guy, but despite that, Pinson makes a strong statement for eventually getting into Cooperstown on the Veteran's Committee.
Vada Pinson; Hall of Fame? What do you think?