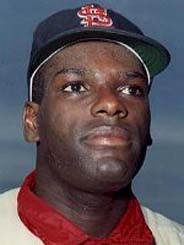 Why was the mound lowered in 1969? Mostly because of the Bob Gibson's 1968 MVP and Cy Young winning season. Starting roughly around 1950 (just after the end of WWII), baseball had transitioned fully from its first "live ball" era into its second "dead ball" era. From 1950-1968, pitching dominated like no other, but the portrait that Gibson painted in 1968 was better than any painting that Pablo Picasso could make. With a record of 22-9 with a 1.12 ERA (3rd lowest in a season ever) and a league leading 268 strikeouts, the Cardinal's all-time ace, may not had been human that season.
Gibson's 1968 season is always in the discussions of best pitching seasons ever, if not, the best. It was so good that he received 100% of the NL vote for the Cy Young Award; while fellow Cooperstown member, Juan Marichal, had a 26-win campaign that received no votes. What may have been the most unlooked at stat in this remarkable Gibson year, is that he only got 3 runs of support from the Cardinals offense per game, so he had to buckle down even harder, which resulted in holding his opponents to a batting average of .184. That led to Gibson topping the major leagues with only allowing 5.4 hits per 9 innings. As one might have guessed, Gibson was the leader in numerous other categories as well, such as, WHIP (0.853, that's how many base runners he allowed per inning), FIP (1.77), and shutouts (13, while he had 28 total complete games). Looking at his regular season numbers on the surface, makes one's jaw drop, but a closer look at the Sabermetrics can make a fan's jaw hit the ground.
For the most part, in order for a starting pitcher to be considered top 3 in the rotation on a playoff team, their quality start percentage (starts that were good, win worthy) usually has to be above 58%, but how about 94%? Yes, it is true, 94% of Bob Gibson's starts were of great quality in 1968, which significantly helped his WAR to calculate out to 8.6 (that's how many wins he was worth for the season). Out of the 304.2 total innings pitched, Gibson only allowed 38 earned runs (49 in total, including unearned). With lack of great defense behind him, Gibson had to get it done with the glove too; along with the Cy Young Award and MVP, he also rained in his 4th consecutive gold glove, as Gibson was very aware of the runners with a pitcher's caught-steeling percentage of 45% (league average was 40%). However, after pitching those 300+ regular season innings, the infamous Bob Gibson was far from done.
Despite losing game 7 by allowing 4 runs after 6 innings of shutout ball against the Detroit Tigers, Gibson still set a World Series record with 35 K's. Out of Gibson's 3 complete games in the 68 Series, game 1 made the history books. It was seen right out of the gate that game 1 was going to be all Gibson, as he struck out seven of the first nine Tiger batters. Gibson went on to break Koufax's record of 15 K's in a WS game with 17 of his own, while only allowing 5 hits in his 144-pitch shutout effort that resulted in a 4-0 Cardinal victory. Out of all of the right-hander's accomplishments in 1968, game 1 of the Fall Classic, was the highlight. There may have been other phenomenal pitching seasons throughout America's Past Time, but did they top 1968, the year of Bob Gibson?