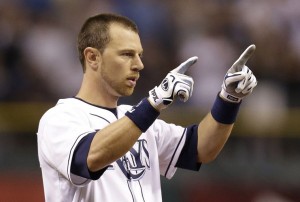 After the Chicago Cubs came out from hiding about their interest in Ben Zobrist by signing him to a 4-year $56 million pact, there was immediate speculation on trading current 2nd baseman Starlin Castro. So, trading Starlin came just under an hour later. The question now is how good does a Cubs uniform fit Ben Zobrist?
After spending his first 9 seasons of his career with the Rays, he was traded to Oakland, then to KC in 2015. Before hand, he was known as a solid utility player who shared time at short, in the outfield, and at 2nd for the most part. Zobrist did start out as a shortstop for the Rays, but after attending a hitting school, Ben developed some more pop in his bat, and the Rays decided to platoon him between 2nd and left field. He then went on to become part of 2 all-star teams perfecting his trade under the radar. Six of his seasons with Tampa were full stints, in which he averaged to appear in 153 games hitting .270 with 36 doubles, 246 total bases, and 16 stolen bags. He also gathered between 70-90 RBI's, while hitting between 15-25 homers. His numbers may not jump off of the page, but his offensive value is more significant that some stars who have more impressive stats. His career WAR is a 3.9, meaning his offensive style of play is worth 3.9 wins a year. Zobrist is the kind of team player any squad would want in the clubhouse, and on the field, the way he sacrifices anything for a team victory.
With Addison Russell keyed in at short, Kris Bryant winning the NL ROTY Award at 3rd, and Anthony Rizzo being a god at first, Zobrist will be a keen leader at 36-years-old in the infield. The Cubbies are hoping that Javier Baez will be ready for the big leagues full time in 2016, thus allowing Zobrist to fill the hole in left field occasionally, but for the most part he will be starting at 2nd base, while Baez matures. The shortstop and second baseman go hand in hand, and for Addison Russell to have a veteran leader in Zobrist will make for an electrifying infield. Ben has only committed 32 errors in over 4800 innings of work at 2nd, while saving a few runs above average. All in all, Zobrist becoming a Cub goes as well together as pancakes and syrup do. .