Being the third largest stadium in the MLB, Turner Field almost looks like a football stadium it is so vastly large. It's size is both it's weakness and strength. With Grand Canyon type size comes complexity, as one can easily get lost walking around the stadium. Despite Turner Field's complexity making it low on lots of fans' stadium list, it's uniqueness draws people back to it.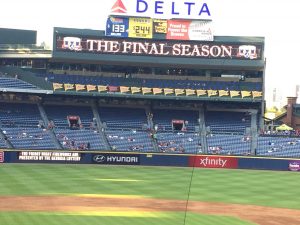 Unlike most stadiums, Turner Field has two main concourses; one hiding underneath the stands, and one above looking down on the field like most baseball stadium concourses. There is nothing special about the concourses, and the lower concourse is hidden from the field of play, almost deceiving a fan that it is a football stadium. However, what makes the stadium worthwhile other than sitting in the stands admiring the huge atmosphere, is the area in centerfield where the main entrance is. Almost like a small village, there are a few restaurants and shops, including the main apparel team store, in that area. It is the closest thing to a tailgating area for pre-game.
As the Atlanta Braves are one of the oldest and most historical franchises in the history of the game, Turner Field has a Braves Hall of Fame on the lower concourse in left field. There is also a large kids area in the village in centerfield, and kids games near the Hall of Fame, which are the places to be prior to first pitch. Finally, there is of course a large restaurant in right centerfield like most stadiums, overlooking the game.
Overall, the negatives are there are too many dead areas, other than the lower hidden concourse, crowded areas throughout the stadium, and only being 20-years-old, Turner Field looks older, like it hasn't been very well taken care of. But, the uniqueness of the centerfield entrance, the Hall of Fame, the Grand Canyon like eye-opening view of the stadium from the stands, and the historical atmosphere with fans initiating "the chop", is what makes Turner Field a must see and intriguing "I want to go again" feel. The Braves' venue gets a grade of a B.